[Newspaper Stamps- Table of Contents]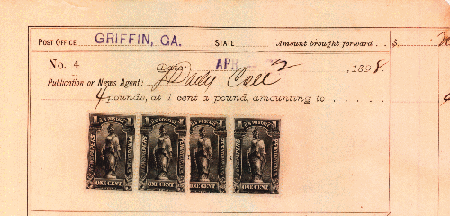 Top quarter of a post office page.
Early newspaper stamps (PR1-4) were actually attached to bundles of newspapers and canceled with a brushing of thick ink. Later issues were were affixed by the Postmaster in the post office and canceled. The Post Office pages were then destroyed (at least most of them).
Another collector has written to say he has three post office sheets and all are lower values from the Griffin Georgia Post Office. Does anyone have post office pages from other offices? Does anyone have pages with higher values on them?
Will buy: Other examples of post office pages that have different issues than this one. I prefer entire pages (I have the entire of this one).